Bariatric surgery stories
There are many stories of patients who have done different types of weight loss surgery. Here we share Jacy and Jack sleeve surgery story about their lives and their decisions for undertaking bariatric surgery. You can learn how their life is changed and improved following the bariatric surgery.
Jacy Fricke gastric sleeve surgery story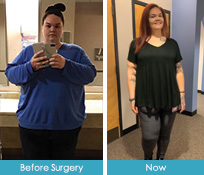 Jacy frick on Jan. 18, 2017 when she woke up in the morning and decided to change her life while her weight was around 480 pounds. She was always out of breath and her ankles and knees hurt all the time from the weight she carried and also suffered from sleep apnea. She was worry about her overall health and what happens for her children's life if her conditions would worsen. She was concerned about obesity-related problems such as diabetes, heart disease, and many other health problems.
Jacy followed the pre-surgery lifestyle and diet program for six months before the surgery. She was 33 years' old who did gastric sleeve surgery and she was successful to lose 85 pounds by the time of the sleeve surgery. Two years after the surgery Jacy could lose another 142 pounds and her weight got down to 235 pounds.
Now Jacy is not struggling with pains, aches, and shortness of breath. She is more active and could reach her body mass index (BMI) from a high of 62 to 36.
Jacy was a source of inspiration to her friends and work colleagues. According to Jacy "although weight loss is amazing, it is more than having clothes that fit better, you can reach self-confidence and enjoy your life."
Jake Smith gastric sleeve surgery story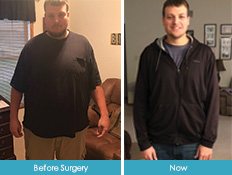 Jack smith at age 25 while he was 200 hundred pounds' overweight, he decided to change his life. During his life, he was always overweight. But in high school despite his high weight he was active in hunting, fishing and playing sports. But at age 20 his weight started to be a problem. After two years of college, he began working as a truck driver but sitting behind the wheel made his condition worse. At age 25 his weight was over 400 pounds. He was not able anymore to do biking and couldn't sleep well. His family doctor told him, he was pre-diabetic and high blood pressure and also tests showed that he had sleep apnea.
He was so tired and decided to undertake gastric sleeve surgery. He met a nutritionist for the six-month pre-bariatric program. According to Jake, the nutritionist guided him very well and he found that he was eating wrong all his life. But at his second weigh-in during the six months' pre-bariatric program he found he has gained three pounds. Unfortunately, he was lazy and had less activity and didn't take the program seriously. But he tried again and follow his diet mindfully so he could lose 30-pound weight by the time of his gastric sleeve surgery.
During eight months' post-op the surgery he could lose 150 pounds and reach a much healthier BMI of 28.7. Then he found that his diabetes is gone and he had no longer sleep apnea and blood pressure.
After the surgery, he increased his exercise and followed a healthy low-fat diet. He says "now everything is easier, I can do my favorite hobbies with my friends and more importantly I feel so much healthier."