Weight loss surgery stories
If you are considering weight loss surgery and you are not sure how your life will change following the bariatric surgery, you can read the following stories about patients who underwent a gastric sleeve surgery. Bariatric patient's stories help you to decide for this surgery easier and also give you the motivation to lose your weight.
Tonya Lightcap story about her gastric sleeve surgery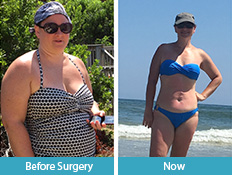 Tonya weight was not an issue for her in high school but during college, her weight begins to increase. After marriage and 20 months' post-op, the birth of her son her weight reaches 195. Over the next four years, she gained another 40 pounds and her weight reach 235.
In 2014 when Tonya has undergone a CT scan to check for kidney stones, she found that she had a fatty liver. Her BMI reached 39.1, and her doctor warned her to change lifestyle. Tonya was very tired physically and also emotionally and had a bad feeling about herself.
She began to try different diets and exercise but none of them worked. In fact, she could lose some weight but she gained back weight. After that, she found that needed help and she couldn't stay overweight for the rest of her life.
She decided to undertake bariatric surgery and after six months of the per-operative program in October 2016, she underwent for gastric sleeve surgery.
Following the gastric sleeve surgery, she could lose 145 pounds and her BMI reached 24. She lost 90-pound weight by doing exercise and healthy, protein-rich diet and taking vitamin supplements. Now she exercises regularly, she can play with her children and walk for a long time.
She says "now I feel younger than 10 years ago when I was overweighted." she could get back into size 6 and even fit into her favorite jeans from high school. Before the weight loss surgery, it was a dream for her to wear a bikini again but now when she looks in the mirror, she can't believe it's her.
Another and one of the most important advantages that gastric sleeve surgery provide for Tonya is wearing her wedding and engagement rings again. She believes weight loss surgery was not easy but it was worth it and changed her life.
Judy Grimm gastric sleeve surgery story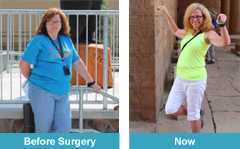 Before age 40s weight was not an issue for Juddy but after the birth of her two children her weight increase from145 to 168. After her divorce and with a stressful job and sedentary work her weight climbed to 258 pounds and she found she had blood pressure and other health problems.
Although she tried different diet and exercise she couldn't get things under her control. She couldn't walk easily because her joints were hurt. She also had to use a continuous positive airway pressure (CPAP) to treat her sleep apnea.
Judy got married again and now has four children and six grandchildren. But when she visited her doctor she found that she was pre-diabetic. She was very scared because her mother died of diabetes. Everything was going bad and she didn't feel well.
So she decided to undertake weight loss surgery and after six months' preparation, she did gastric sleeve surgery in December 2014 at age 57. She could reach her weight to 161 pounds' post-op the surgery, stopped using the CPAP and got rid of blood pressure and hormone medications.
Now she is very happy with her decision because she can do exercise easily, travel with her husband. She is also able to do activities that couldn't do with overweight like flying in a hot air balloon, swimming with stingrays and flying in a helicopter. She also no longer has to purchase two seats for herself. Judy says gastric sleeve surgery gave her a second chance to enjoy her life and also increase her self-esteem.