Bariatric surgery for type 2 diabetes
Bariatric surgery can help to treat obese people with type 2 diabetes. More than 90% of people who suffer of type 2 diabetes are obese and weight loss surgery not only can treat their health problems like diabetes but also provide them a high qualified life.
In type 1 diabetes pancreas don't produce enough insulin but in type 2 diabetes pancreas produce sufficient insulin but the body is unable to use the insulin due to unknown reason. Untreated diabetes is dangerous and can causes many health problems such as blindness, strokes, heart and blood vessel disease, nerve damage and kidney failure. But after bariatric surgery especially gastric bypass the intestine use glucose and causes to decrease blood sugar levels.
Weight loss surgery can effect on treating type 2 diabetes in following ways:
It can effect on the condition of your hormones in your gut as well as how your body produce insulin.
Enhance the amount of bile acids in your body that causes your body cells to be more sensitive to insulin.
Modify the way your cells use insulin and consequently lower blood sugar levels.
Surgical treatments for type 2 diabetes
There are different types of weight loss surgery also known as bariatric surgery. These surgeries can include removal part of the stomach in order to decrease the stomach size that leads to limit appetite and food intake, a surgical re-rout of the digestive system to bypass the stomach or wrapping a band around the stomach to reduce it. When bariatric surgeries are done in order to manage diabetes, it known as metabolic surgery.
Who is right candidate for bariatric surgery to manage diabetes?
Bariatric surgery is a good treatment option for obese people with type 2 diabetes. This surgery is recommended for people who:
Have a body mass index (BMI) of 40 or above, it doesn't matter if they are managing their diabetes or undergoing other treatment options for their diabetes.
Have a BMI 35-40 with blood sugar level who failed to manage their diabetes even with healthy lifestyle and taking diabetes medications.
Or even for people who have a BMI 30-35 and their blood sugar level are not controlled well by healthy life style and diabetics medications.
But make attention that you need to consult with your doctor before deicing for bariatric surgery. Your doctor can diagnose whether weight loss surgery is a right option for you or not.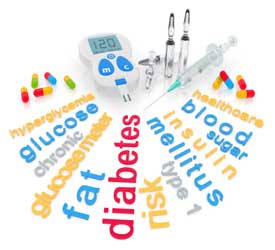 Risks of bariatric surgery for diabetes
The associated risks with diabetes surgery is not greater than other surgeries. It may include the common complications such as infection, bleeding, anesthesia issue, chronic nausea and vomiting. In the long term, diabetes surgery may cause nutritional deficiencies like anaemia. In this condition you need to take vitamin and nutritional supplements as well as regular checkup and monitoring by your doctor.
Does bariatric surgery is a permanent cure for type 2 diabetes?
Although weight loss surgery is an effective treatment method for type 2 diabetes but it is not a permanent cure. It is important that you follow a healthy life style after the surgery and do the regular diabetes reviews to check your blood sugar level or other complications associated with diabetes.
Type 2 diabetes is a dangerous health problem that may leads to the death. Each year many people die from type 2 diabetes directly or indirectly. Bariatric surgery is an advanced treatment method to treat type 2 diabetes. But you should keep it in your mind that you need to change your life style after the surgery and do regular checkup for monitoring your blood sugar level.